Online Survey about Collecting Preferences
Member Franky Leeuwerck started writing blog posts about antique securities a decade ago. For this 10-year anniversary occasion he has set up an online survey (poll) about collecting preferences. The survey questions about concepts like 'Beauty', 'Scarcity, 'Historical significance', 'A good bargain' and 'Collection completeness', which are all incentives for collectors worldwide.
Your (anonymous) participation is relevant and will be much appreciated. You can access the poll here: http://leeuwerck.blogspot.com/p/blog-page.html
APRIL 2020 Issue of Scripophily Journal Available Online
The latest and greatest edition of the Scripophily Journal is available online.  You can click here to take you to the page.  Please note this is in the members only area of the website.
Member Forum now accepts images!
The Forum for members comments can now accept images.  This is a great way to add some interesting content to what you have to say.  Please note this is in the Members Only portion of this site.
IBSS AGM 2020
The IBSS AGM scheduled for May 5 has now been cancelled because of the restrictions resulting from the coronavirus pandemic.
Instead we plan to publish the reports that would have been presented at the AGM in the next issue of Scripophily. Those formal resolutions that would have required approval at the AGM – the report of the 2019 AGM, the 2019 Accounts, the reappointment of the Independent Examiner and the appointment of nominated Officers and Committee Members – will have to be dealt with at the 2021 AGM.   The current Officers and Committee Members will be retained until the 2021 AGM.
Join Us!
It's easy to Join the International Bond and Share Society – Just click on the Membership tab above and follow the directions!
Highlight Certificate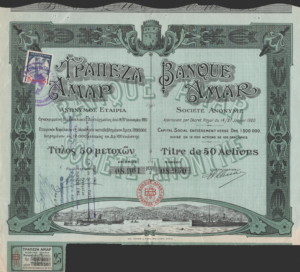 Click on Image for a larger version