Online Survey about Collecting Preferences
Member Franky Leeuwerck started writing blog posts about antique securities a decade ago. For this 10-year anniversary occasion he has set up an online survey (poll) about collecting preferences. The survey questions about concepts like 'Beauty', 'Scarcity, 'Historical significance', 'A good bargain' and 'Collection completeness', which are all incentives for collectors worldwide.
Your (anonymous) participation is relevant and will be much appreciated. You can access the poll here: http://leeuwerck.blogspot.com/p/blog-page.html
Member Forum now accepts images!
The Forum for members comments can now accept images.  This is a great way to add some interesting content to what you have to say.  Please note this is in the Members Only portion of this site.
Pollock Mining Collection Still Available
The Geff Pollock Mining Collection is still available.  The entire collection was offered in Fred Holabird's April auction but did not sell.  It is our understanding that the current asking price us US$55,000.  While that seems like a large sum, the collection has around 2,000 certificates.
If you would like to see the description of the collection as was listed in the Holabird sale, please click here. (WORD document)
If you would like to see a listing of all the certificates in the collection, please click here. (EXCEL spreadsheet)
If you are interested in further information, contact Holabird auctions at: info@holabirdamericana.com or call them at 1-777-851-1859.
Join Us!
It's easy to Join the International Bond and Share Society – Just click on the Membership tab above and follow the directions!
Highlight Certificate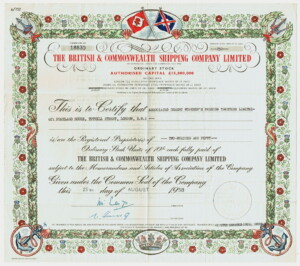 Click on Image for a larger version